Wing-banded Antbird
Myrmornis torquata
Photo by Tyler Ficker
The rainforests of eastern Panama are perhaps the most important stronghold of the rare and distinctive Wing-banded Antbird. These antbirds can be recognized by their squat, nearly tailless appearance and their bright cinnamon-rufous wingbars (or "bands"). Males have an extensively black throat and breast, while females show a rufous-orange throat patch. This species appears to have a highly discontinuous range, with populations occurring variously across Amazonia and the Guianas, at the base of the Andes, and from northwest Colombia north into Honduras. It inhabits the interior of lowland forests. The discontinuities in its reported range may be due to poorly understood details of its habitat preferences, but also to its general rarity and the lack of comprehensive surveys.
Unlike many more familiar members of its family, the Typical Antbirds (Thamnophilidae), the Wing-banded Antbird does not forage by attending army ant swarms. Instead, these antbirds forage by carefully and slowly probing through the leaf litter on the forest floor for insects and other arthropods, usually alone or in pairs and almost always away from ant swarms or other mixed species feeding flocks. This highly unobtrusive behavior—slow, quiet, and often solitary—contributes greatly to the difficulty of spotting and observing this bird in the field.
The Wing-banded Antbird is not currently considered a threatened species, although much more remains to be learned about its distribution and ecology.
In Panama Wing-banded Antbirds are found only in the eastern half of the country, including in protected areas such as Soberanía and Darién National Parks. It is very unusual to see this species on birding tours from the Canopy Tower, but it is often one of the top avian prizes for our guests at Canopy Camp Darien. Sabrewing guide Tyler Ficker narrates a recent encounter with a Wing-banded Antbird on a Canopy Family tour:
A stop at Reserva San Francisco was the perfect way to break up the drive back to Panama City from Canopy Camp. We were absolutely shocked to hear this bird calling the first time. We were even more surprised to hear it closer the second time. Then, before we knew it, the bird popped up in the open and showed off for us! This bird put on quite the show as it tossed leaves while foraging, sat in the open at times, and called for us for a while before eventually disappearing back into vegetation. It was truly unforgettable and a great way for our Sabrewing Nature Tours group to wrap up our 18 days of visiting all of the Canopy Family properties.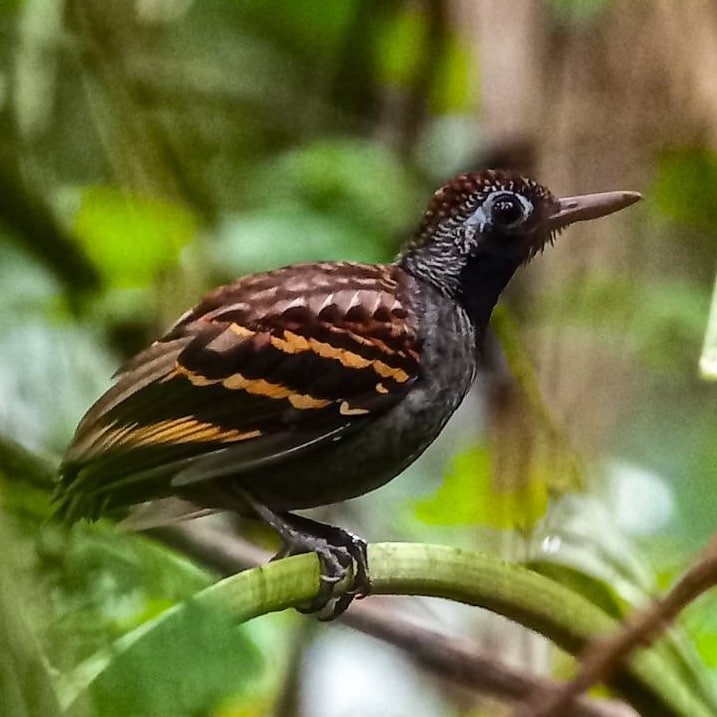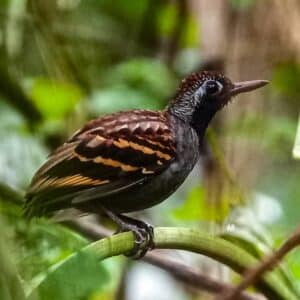 Photo by Eliecer Rodriguez.
References:
Angehr, G. R., and R. Dean (2010). The Birds of Panama: A Field Guide. Zona Tropical, San José, Costa Rica.
del Hoyo, J., K. Zimmer, N. Collar, M.L. Isler, and G. M. Kirwan (2020). Wing-banded Antbird (Myrmornis torquata), version 1.0. In Birds of the World (S. M. Billerman, B. K. Keeney, P. G. Rodewald, and T. S. Schulenberg, Editors). Cornell Lab of Ornithology, Ithaca, NY, USA. https://doi.org/10.2173/bow.wibant1.01.