With Canopy Family guide Oscar Fria's discovery of an active Crested Eagle nest on February 20, the Canopy Camp can once again offer virtually guaranteed sightings of both Harpy Eagle and Crested Eagle, the two great eagles of the Neotropical rainforests, at their nests! As reported on our social media pages, the Crested Eagle chick is estimated to be only 3 to 4 months old. Because so few Crested Eagle nests have ever been discovered, information regarding their breeding biology is difficult to come by, but observations from one nest that has been studied suggest that the chick will remain at or near its nest for over a year before becoming independent of its parents. Meanwhile, the currently active Harpy Eagle nest was discovered last October, and the chick is believed to be five months old. Like Crested Eagles, Harpy Eagles take a long time to mature; a chick typically remains within 100 meters of its nest for at least 15 months after hatching. Already our Harpy chick has been observed flapping its way out of its nest onto nearby branches, but never straying far. As a result, if all goes well, we can look forward to reliable sightings of both species for the next several months.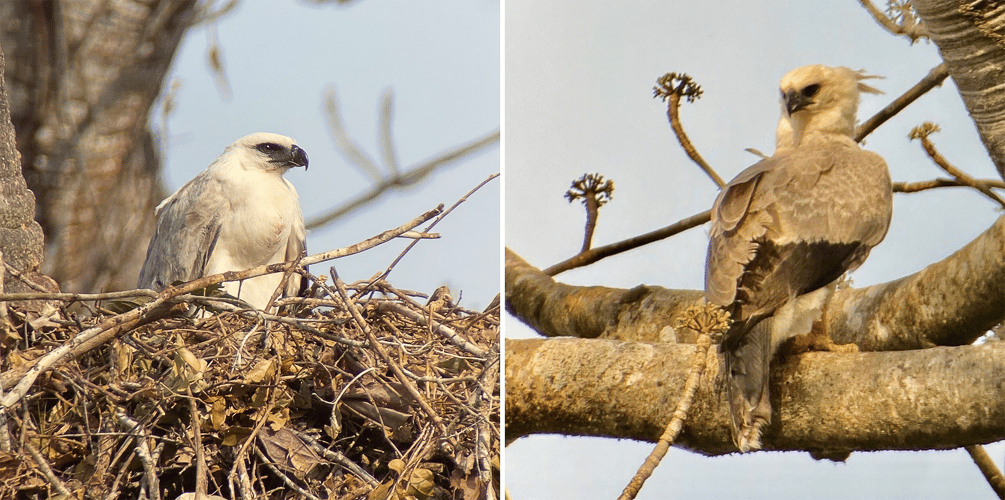 Sightings of Harpy and Crested Eagles are highly sought after by birders for a number of reasons. Both are renowned as the largest and most powerful raptors of the rainforest. The Harpy Eagle, Panama's national bird, is one of the largest eagles in the world and one of the largest birds in Central America, with a wingspan of around 6 feet. Both species are rare and exist at very low population densities, partially because each nesting pair requires a large territory of relatively undisturbed forest. Both species tend to hunt in the forest canopy and rarely soar above the trees, making sightings even more difficult. Indeed, the only reliable way to see these eagles is to visit their nests. In this respect, although the Harpy Eagle may be more iconic, the Crested Eagle is even more difficult to see, since its nests are even more infrequently discovered. The opportunity to see both species, virtually guaranteed, in a single day—hiking to the Harpy nest in the morning and driving to the Crested Eagle nest after lunch, as recent Canopy Camp guests have been doing—is truly one-of-a-kind.
The Canopy Family sees conserving wildlife and supporting local communities as central and interrelated values, and to these ends, after Oscar's discovery of the Crested Eagle nest, we alerted the village which owned the land on which the nest tree was located and developed an arrangement whereby the village receives a payment per guest in exchange for protecting the nest tree and helping birders to enjoy continued sightings of the eagles. Likewise, our visits to the Harpy nest are guided and supported by members of the family that owns the land. In this way our visits to the Harpy and Crested Eagle nests can contribute both to the conservation of these threatened species and to the welfare—and birding knowledge and enthusiasm—of the communities that live alongside them.
Contact us to schedule your visit with the eagles of Darién at the Canopy Camp!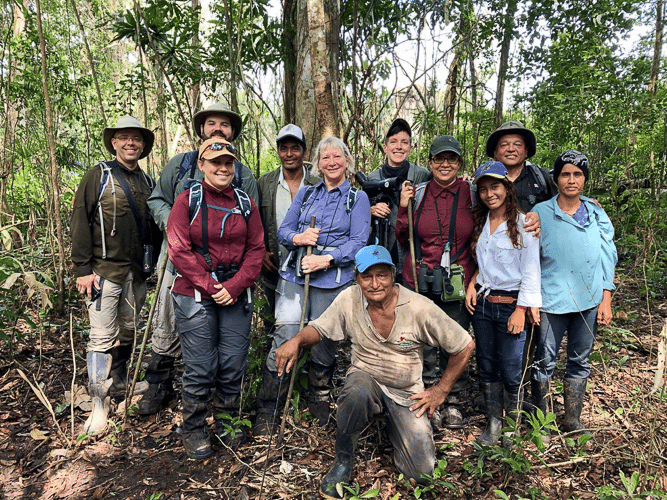 References:
Bierregaard, R.O., Jr & Kirwan, G.M. (2020). Crested Eagle (Morphnus guianensis). In: del Hoyo, J., Elliott, A., Sargatal, J., Christie, D.A. & de Juana, E. (eds.). Handbook of the Birds of the World Alive. Lynx Edicions, Barcelona. (retrieved from https://www.hbw.com/node/53149 on 4 March 2020).
Bierregaard, R.O., Jr, Kirwan, G.M. & Sharpe, C.J. (2020). Harpy Eagle (Harpia harpyja). In: del Hoyo, J., Elliott, A., Sargatal, J., Christie, D.A. & de Juana, E. (eds.). Handbook of the Birds of the World Alive. Lynx Edicions, Barcelona. (retrieved from https://www.hbw.com/node/53150 on 4 March 2020).