The isolated mountain ranges at the border of Panama and Colombia harbor some of Central (and South) America's least accessible and least frequently observed birds. In a recent trip report from Cerro Pirre, I described my efforts to see some of these birds. But Pirre is far from the most remote birding destination in these highlands. That distinction belongs instead to Cerro Tacarcuna, well to the northeast of Pirre and in a different range, the Serranía del Darién. While there is overlap between the special birds of Pirre and those of Tacarcuna, Tacarcuna is also home to four namesake birds—the Tacarcuna Wood-Quail, Tacarcuna Tapaculo, Tacarcuna Chlorospingus, and Tacarcuna Warbler—that are absent from Pirre and, at least in the case of the first two, from anywhere else. These birds remain some of the least-known species in the Neotropics. Perhaps most illustratively, as of March 2022, the Tacarcuna Tapaculo had still never been photographed alive.
While many birders have visited and continue to visit Pirre, only three Panamanian birders are known to have visited Tacarcuna—Euclides "Kilo" Campos, Alexis Guevara, and my guide from Cerro Pirre Isaac Pizarro, who together undertook a birding expedition to Tacarcuna in September 2016 and observed all four "Tacarcuna" birds there, even managing one out-of-focus photograph of the wood-quail. While I was birding at Pirre with Isaac, I inquired rather idly about the possibility of birding at Tacarcuna, and he responded with great enthusiasm and immediately set about planning a trip.
And so on April 12, little more than two weeks after I returned from my trip to Cerro Pirre, I was back in Yaviza meeting Isaac for a boat ride up the Chucunaque and Tuira rivers. This time we traveled all the way to Yape, where we switched over to a motorized canoe and proceeded for another two hours or so up the increasingly shallow and rocky stream. Eventually the boat was no longer the most efficient means of transport, and our party of six—myself, Isaac, and porters Alipio, Jorge, Juan, and Macario—set off on foot. The walk was mostly flat and partially through farmland, but it did involve wading through a fast-flowing waist-deep river four times before we reached our first campsite on the riverbank, which Isaac called Quebrada Ñeque ("Agouti Creek"). We were still less than 200m above sea level at this point, so we had a long way to go over the next few days.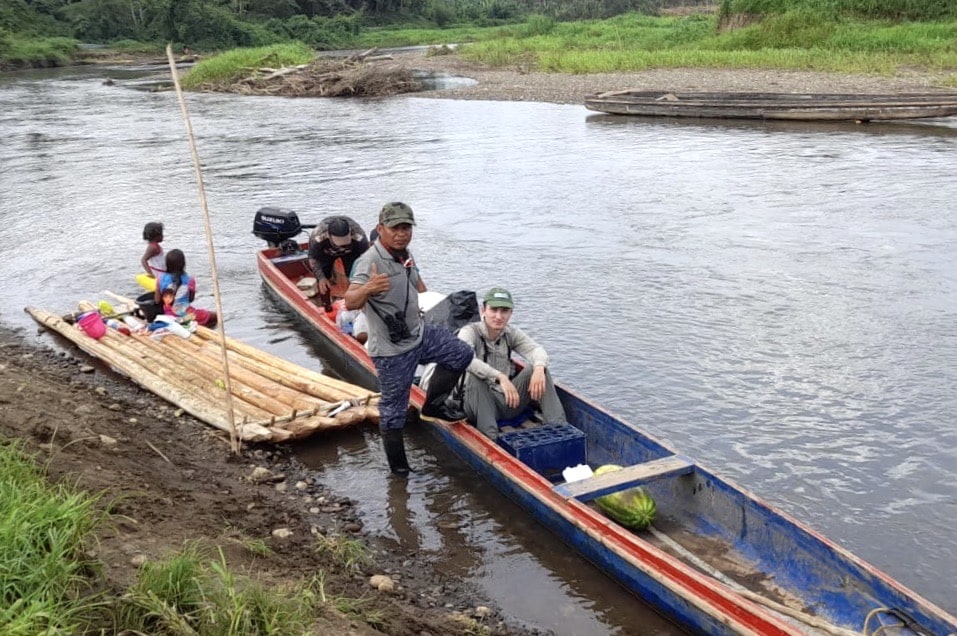 Isaac and I setting off from Yape, April 12.
The following morning (April 13) we started walking uphill. There was something of a trail here (when I asked Isaac who made or used this trail, he just answered "Colombians") but it was overgrown and often difficult to discern. We walked quickly and mostly passed by the birds that we saw or heard, but I did insist on stopping for a trio of Crimson-bellied Woodpeckers. Our decisions about where to camp each night were constrained by the availability of water in the vicinity, so once we reached an area with a nearby stream, the porters called a halt to our ascent. There was no "campsite" here—the porters simply cleared an area with their machetes and used logs to prop up a couple of plastic tarps. The day's walk had been long but not very steep, such that by the time we stopped we had only risen to approximately 500m asl. We saw a few more birds around the campsite, including Red-and-green Macaws and a Stripe-throated Wren. I was grateful to Isaac for bringing an extra hammock with a mosquito net, as otherwise the clouds of biting insects would have made it very difficult to sleep.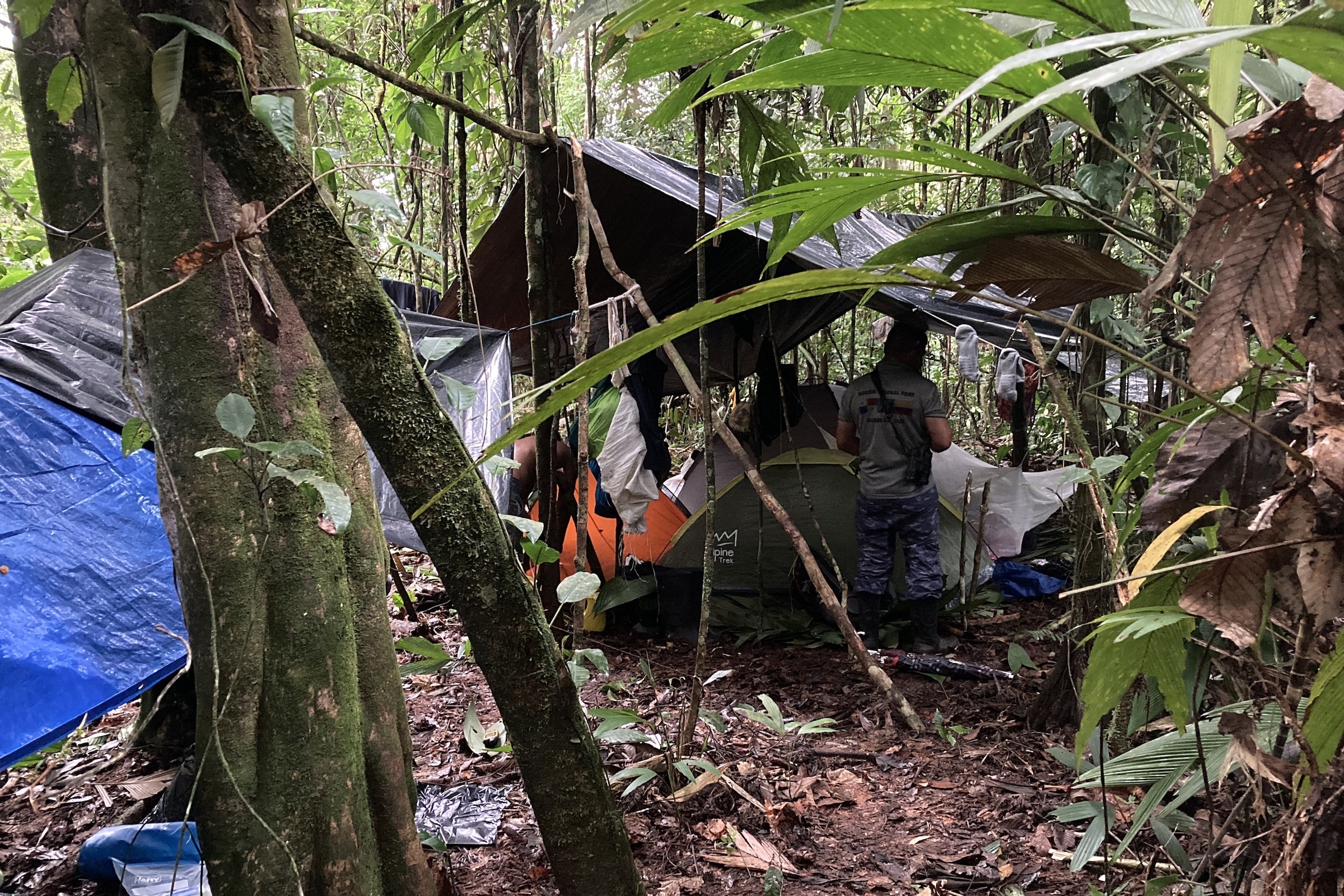 Day 2 campsite, around 500m asl.
We achieved most of our elevation gain the following day (April 14), climbing up to 1330m asl. And on the way we found our first Tacarcuna specialties. At around 1150m, we started hearing the staccato vocalizations of the Tacarcuna Tapaculo, arguably our most important target bird. In general, Scytalopus tapaculos are cryptic in their appearance and furtive in their behavior, but the Tacarcuna Tapaculo is relatively well-marked, with a bold white supercilium and a contrasting pale throat, and it proved to be relatively confiding as well. Isaac and I ventured briefly off the trail when we heard one calling close by, and before we even had a chance to place down a speaker and start using playback, we spotted the bird vocalizing from a visible perch. It turned back and forth a few times as I took my photographs and then hopped down and disappeared. And that's the rather straightforward story behind my having taken the first ever photographs of the Tacarcuna Tapaculo.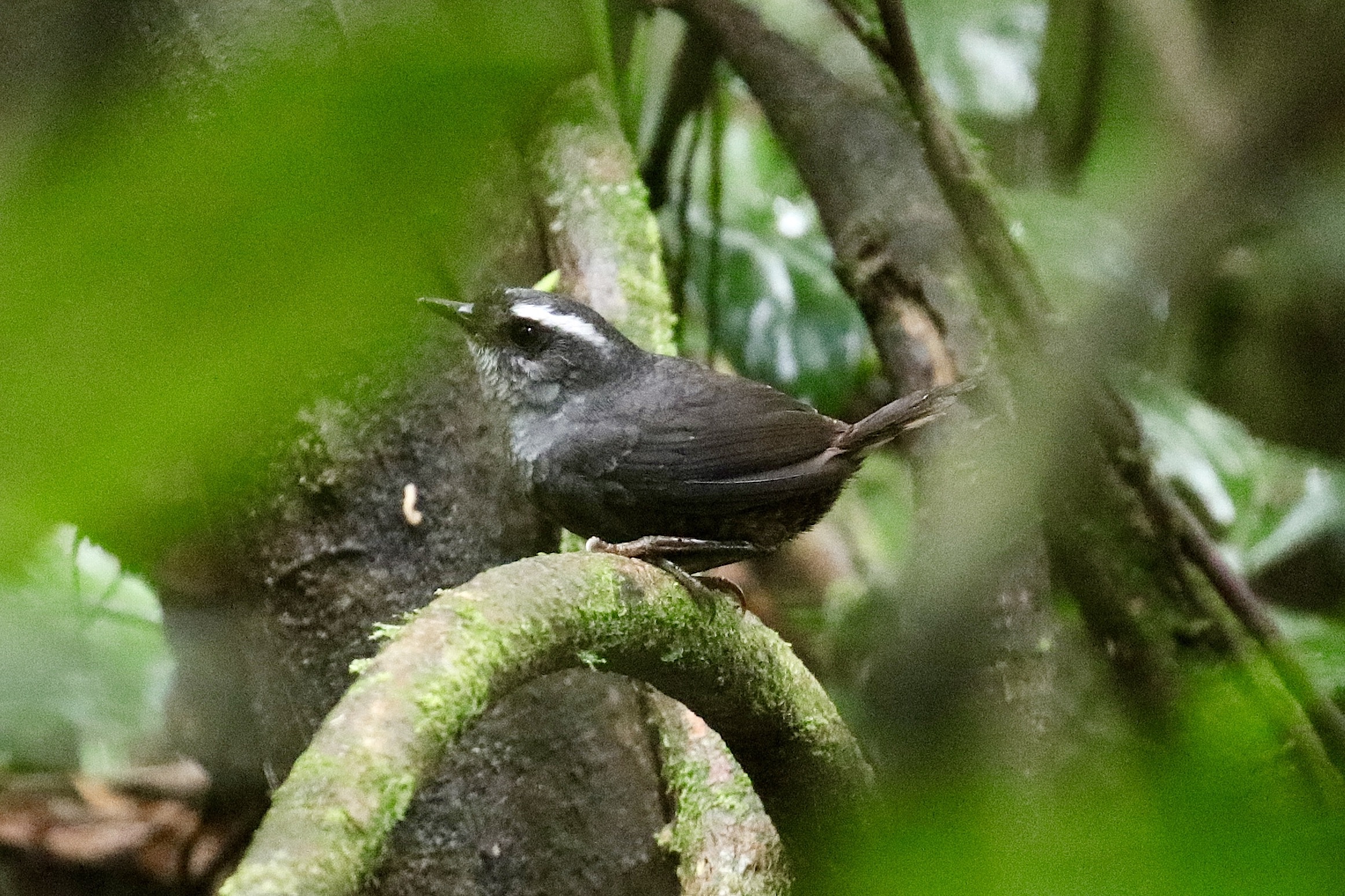 It proved easier than expected for me to take the first ever photographs of Tacarcuna Tapaculo (April 14, 2022).
Shortly thereafter, we located at least one Tacarcuna Chlorospingus associating with a flock of Carmiol's Tanagers. Despite its name, the Tacarcuna Chlorospingus is not restricted to Cerro Tacarcuna but also occurs on a few more accessible peaks to the west, such as Cerro Chucantí and even Cerro Azul. It is appropriately common and conspicuous at the right elevations at Tacarcuna, though, so I was pleased to see it here. I also managed to photograph my first Violet-capped Hummingbird and the vocally distinct Tacarcuna subspecies of Northern Schiffornis.
While I was photographing the schiffornis a drizzle set in, which soon gave way to a downpour. We continued through the driving rain at a rapid pace. Isaac gave me an umbrella to use, which the branches and thorns overhanging the "trail" quickly battered to shreds. After two hours we finally reached a preexisting campsite, complete with a half-torn plastic tarp which I used to shelter my camera as the porters set up camp. Isaac called this site "Laguna," after a nearby body of stagnant water, and told me that it was a disused FARC campsite from the days when large groups of people would transport cocaine by foot across the border. We didn't encounter any drug-runners, but we did see more Tacarcuna Chlorospinguses and Violet-capped Hummingbirds and the first Green-naped Tanagers of the trip, among other birds.
On day two of the trip, then, still in the Tacarcuna foothills, I had already seen and photographed two of the four "Tacarcuna" birds. To see the other two we would have to reach higher elevation habitat. The problem with being in "foothills," however, is that in order to go higher up, you have to go down first. On April 15, navigating using the satellite communicator loaned to me by the Canopy Family, Isaac's compass, and GPS coordinates generously provided to us by Alex Guevara from his 2016 trip, we undertook a ridiculous roller-coaster journey in the direction of the Tacarcuna peak.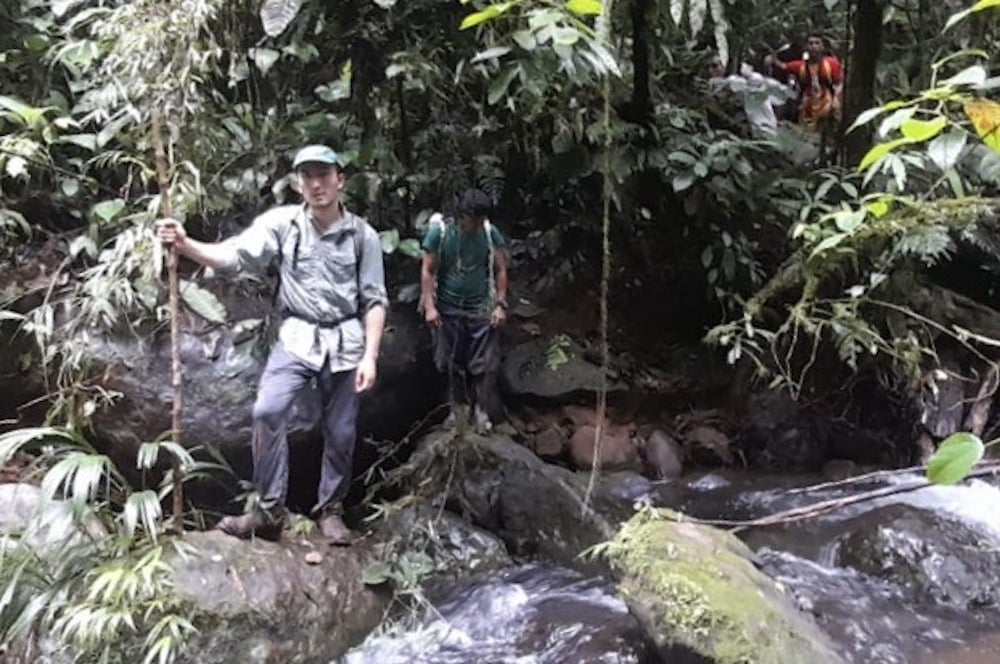 About to wade through yet another mountain stream.
At times the existence of a trail became a difficult interpretive question. At other times its nonexistence was obvious. At least four times I found myself careening down the side of a ravine, wading through a rocky stream or river at the bottom, and then scrambling up the other side, digging my hands into the mud in front of my face in an effort to gain some traction. I did manage to photograph one lifer—the near-endemic Black-headed Brushfinch—but for the most part I had to keep my camera packed away. We eventually made it to a consistently steep uphill slope, where we decided to camp. By the end of all this, we were actually lower than we had started, approximately 1250m asl, but now only a kilometer away from the location of the last known sighting of Tacarcuna Wood-Quail. In the late afternoon Isaac and I tried to make up that last kilometer, if only to check out the area, but we had to turn back once it became too dark.
The morning of April 16 we partially retraced our steps from the previous evening and around 9:30am we finally emerged onto a cloudforested ridge at 1650m, where the porters immediately set about clearing a campsite. I found the change in ecology rather sudden and also very welcome, as the habitat here seemed well-suited for the highland birds that we still needed to see. This impression was quickly confirmed by the appearance of a small mixed flock populated not just by Green-naped Tanagers and a Beautiful Treerunner, but also by our first Tacarcuna Warbler.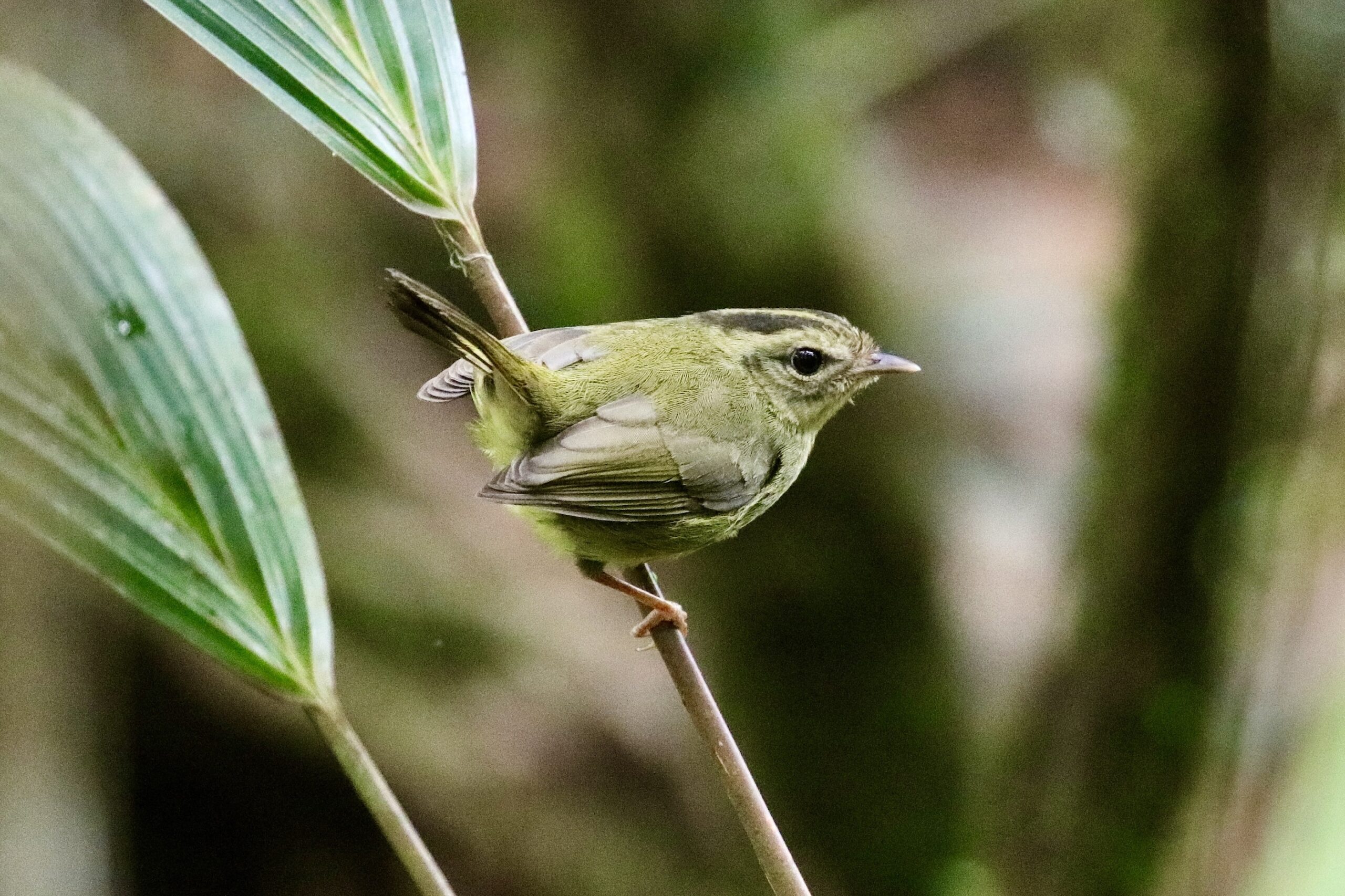 The Tacarcuna Warbler looks like a washed-out Three-striped Warbler, in which it was formerly included.
Isaac and I spent the rest of the day exploring the ridgetop in the vicinity of our campsite. Mixed flocks held everything from more Tacarcuna Warblers and Chlorospinguses, to highland birds like Rufous-browed Tyrannulet and Brown-capped Vireo, to migrants like Blackburnian and Canada Warblers. We also found many Violet-capped Hummingbirds and at least one Greenish Puffleg, of the Tacarcuna subspecies floccus.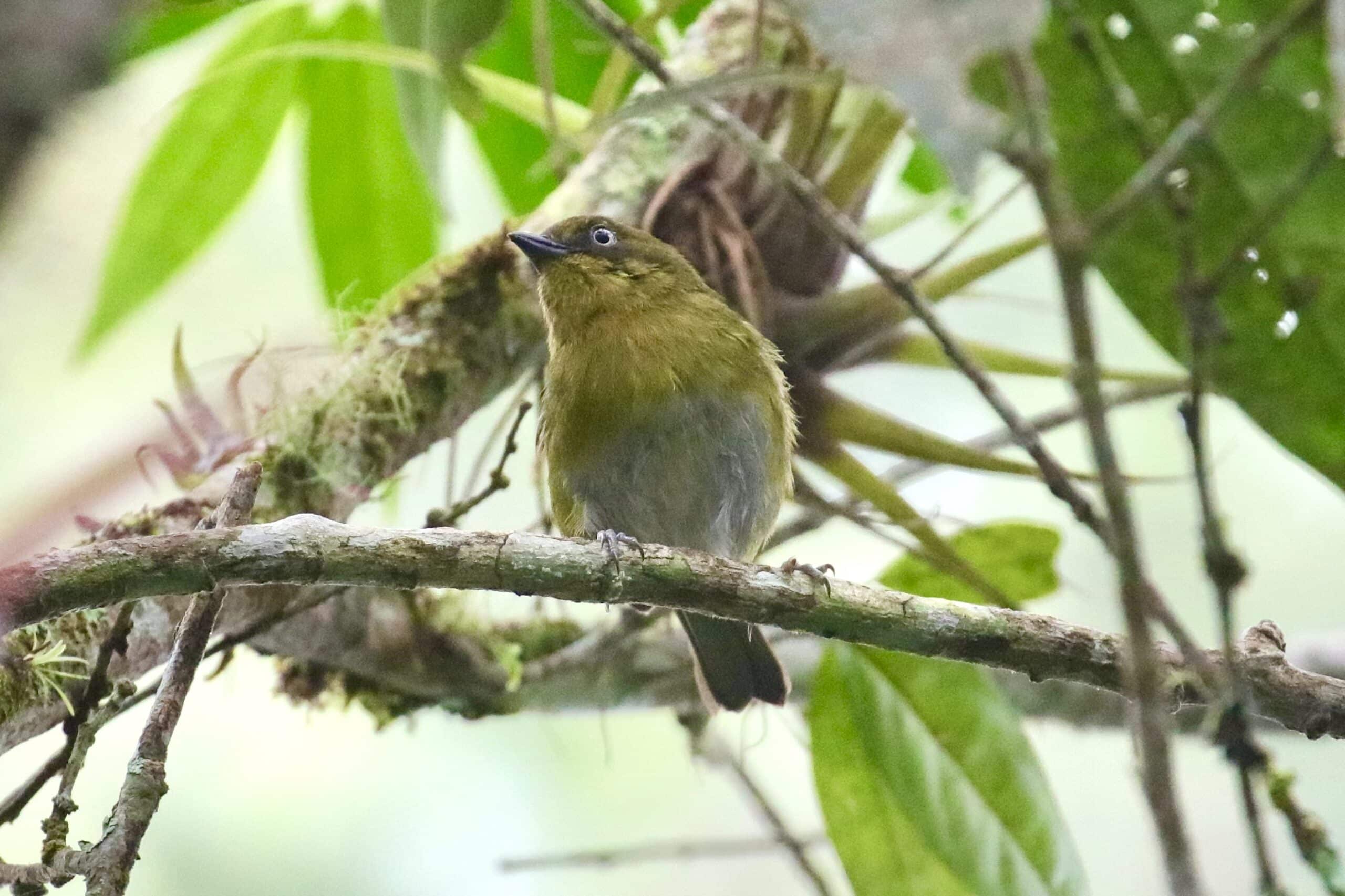 The Tacarcuna Chlorospingus differs from the Pirre Chlorospingus in its duller face and whitish belly.
At this point, of course, we had just one major target bird left. It was only in 1963 that Panamanian naturalists discovered and formally described a "beautiful wood-quail" from the vicinity of Cerro Tacarcuna, which was subsequently observed by ornithologists on the Colombian side of the border in 1982 and 1990. Isaac's 2016 trip with Kilo and Alex probably marked the first time the Tacarcuna Wood-Quail had been observed in Panama since the 1960s. It also produced the first photograph and first sound recording of this species. And it was the GPS coordinates of this sighting, provided by Alex, that we had followed to reach our ridgetop. I was greatly discouraged, then, that we failed even to hear any wood-quails for the entirety of our first day there. We continued to listen well past dusk without success.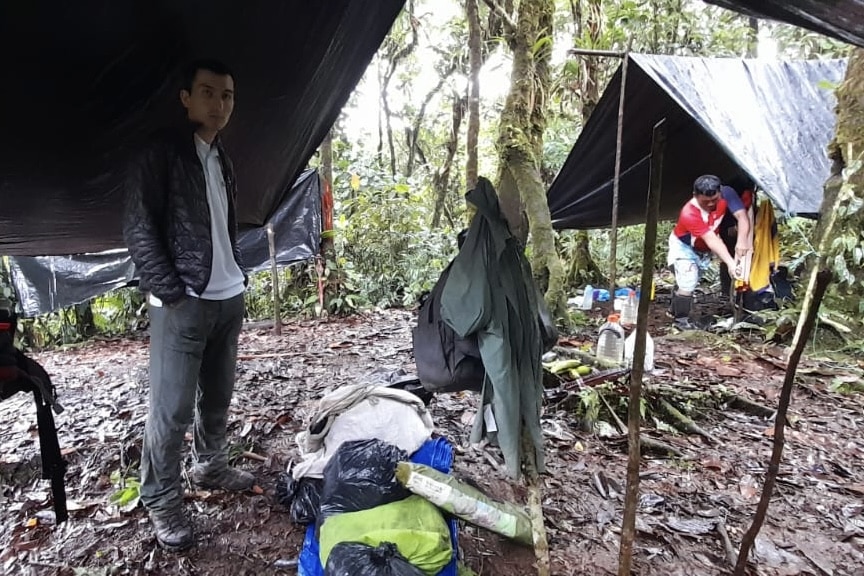 Thrilled to be camping at 1650m asl at Cerro Tacarcuna.
Isaac and I woke up at 5:30 the next morning (April 17) to keep listening, and at 6:05, to my relief, we started hearing at least two pairs or coveys of wood-quail somewhere down the opposite side of the ridge from where we had come. We used the one recording of the wood-quail's vocalizations, taken by Kilo Campos in 2016, to try to attract them closer, but as the quality was rather poor Isaac also used recordings of Black-breasted Wood-Quail, from the highlands of Costa Rica and western Panama, which he said sounded similar. As is typical of wood-quails, the one covey that approached would fall silent for long periods of time before suddenly and raucously calling from what sounded like just a few feet away. All I managed to see at this point was a hint of movement in the undergrowth.
After a short breakfast Isaac and I agreed that we were unlikely to get good views of the wood-quail while standing on the relatively open ridgetop. So, just after 8:00, we ventured a short distance down the slope where we had heard the wood-quails, placed the speaker a few feet away from us, and took up positions with cameras at the ready. While we were playing Black-breasted Wood-Quail recordings, a Tacarcuna Tapaculo took the opportunity to parade itself in front of us on an open branch. Eventually I heard a soft clucking sound behind me and looked over my shoulder at a Tacarcuna Wood-Quail posing in the open. I twisted my camera around and took a few photographs (including the one below) before the bird moved off into denser undergrowth, followed soon after by one other individual. Isaac also managed to get a photograph and some excellent sound recordings as the pair of wood-quails made a wide circle around us before disappearing again down the slope.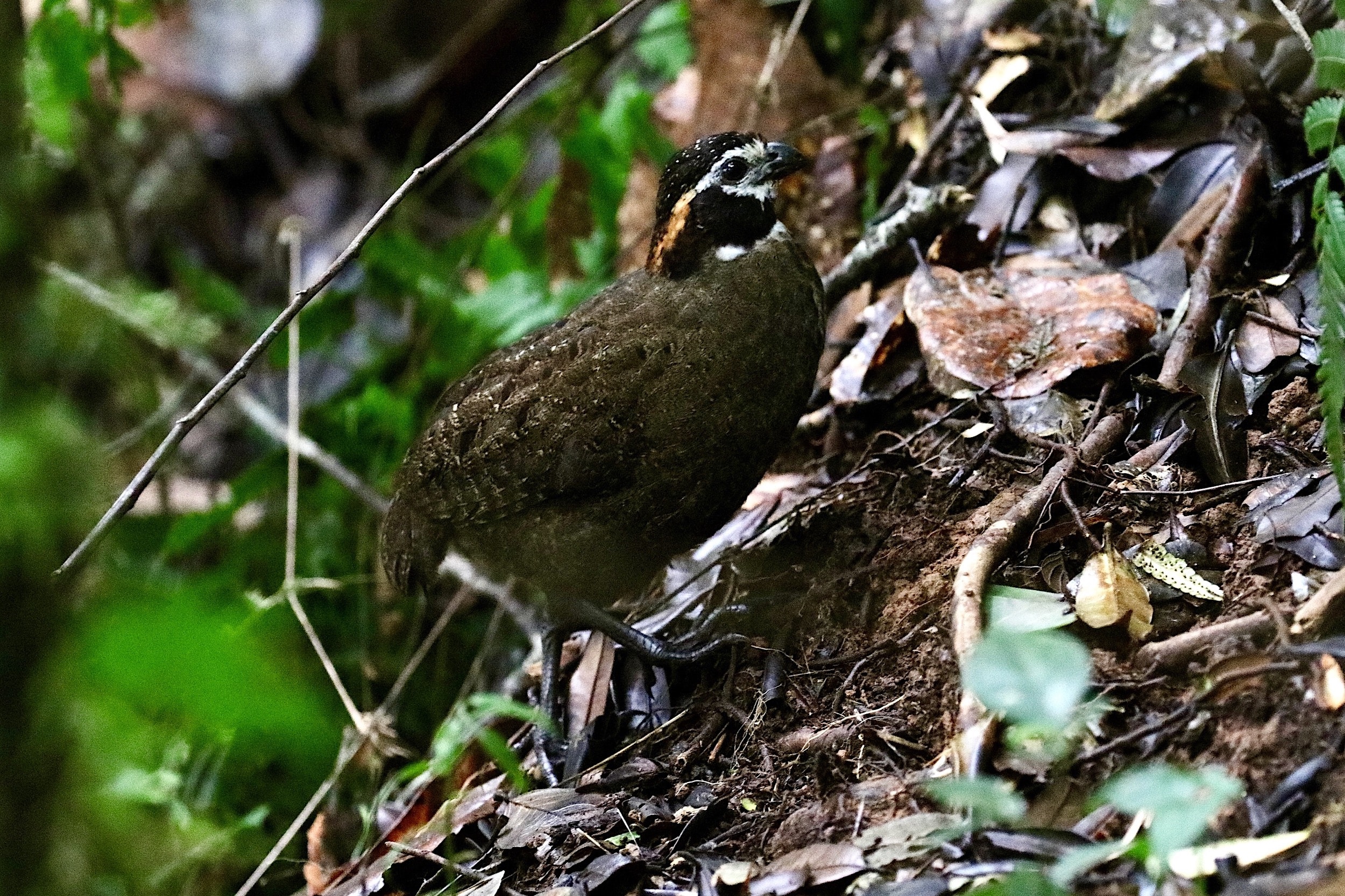 The unique and beautiful Tacarcuna Wood-Quail.
I am sure that my description here does not capture the extent either of my prolonged anxiety over whether or not I was going to see this bird, or of my jubilation at having done so.
Having seen and photographed all four "Tacarcuna" birds, Isaac and I decided to start heading back immediately. For me, the most difficult part of the trip was still to come. After at least eight hours of racing through the forest, up and down ravines, through water and mud and insects and thorns, with just two granola bars to eat and three bottles of water to drink, I collapsed on the trail two kilometers shy of Quebrada Ñeque. I started to feel tingling and numbness in my face that soon spread to the rest of my body. Initially, given the sudden onset and rather alarming nature of my symptoms, I assumed I must have been stung by something venomous (Isaac suspected a bullet ant). Having lost feeling in my limbs, and with my eyes and mouth frozen shut, I was sensible of little more than the sound of the porters standing over me and imploring Jesus to save me. I did manage to press the SOS button on my satellite communicator and was soon in touch with Garmin emergency services, SENAFRONT, my friends at the Canopy Family, and my parents back in New York.
I won't detail the many frustrations of trying to get rescued from the Darién jungle. Suffice it to say that, despite the intensive efforts of Carlos Bethancourt and Daniel Arias Barakat of the Canopy Family, for which I will always be grateful, no one came to help us. Thankfully, with the help of Isaac and our team, I was able to eat and drink something as my symptoms ebbed and flowed, and eventually to stand and be half-carried the rest of the way down the trail. After more pouring rain and waist-deep rivers that I only dimly recall, we met up with our canoe and headed back to Yape. Since we arrived at Yape at 4:30am, we decided to push on to Yaviza, and by 8:00 I was back at the Canopy Camp feeling completely better.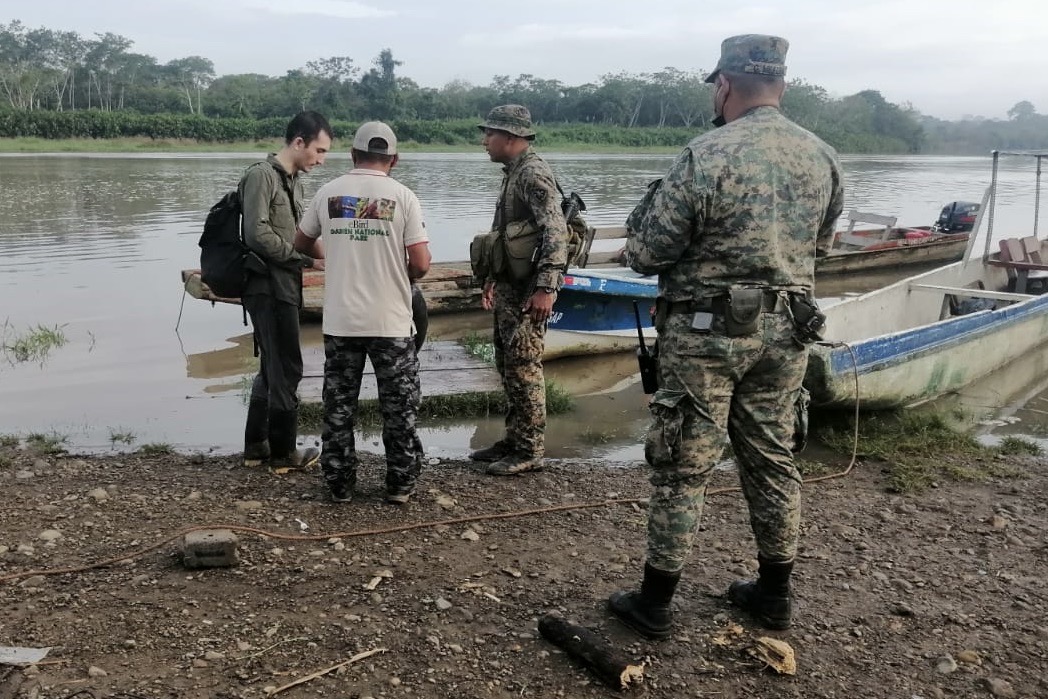 Isaac and I in El Real on the way back to Yaviza, joined by two members of SENAFRONT pretending to help.
As I write this trip report from the safety and comfort of the Canopy Tower, I have already gotten word that news of my successful birding excursion to Cerro Tacarcuna has made a splash in Panama's birding community, and that some of Panama's top birders are planning their own Tacarcuna trips as soon as the next few weeks. I am proud to have contributed in this way to putting Cerro Tacarcuna on the birding map, and I hope that renewed birding interest may in turn facilitate greater attention to the biology, and conservation, of the "Tacarcuna" birds. If I were to offer one piece of advice to future Tacarcuna birders, it would simply be to pay a bit more attention than I did to their own physical wellbeing. I now believe that the cause of my difficulties on the way back was just extreme exhaustion, which could have been avoided by walking at a more reasonable pace, with more breaks, more food, and more water. Besides, there are plenty of other birds to see along the way and lots still to learn about the birdlife of this remote area. I certainly look forward to seeing new Tacarcuna trip reports in the near future.
My thanks go to my indefatigable guide Isaac Pizarro—who not only showed me the four "Tacarcuna" birds but also literally carried me on his back part of the way down—and to our porter and cook Alipio Canupia Bailarin and our three porters from Yape, Jorge Tomi Cabrera, Juan Chivirico Guainora, and Macario Quintero Sousa. Thanks also to Euclides Campos and Alexis Guevara for the information they provided to Isaac and me from their pioneering 2016 trip. Finally, many thanks are due to my dear friends at the Canopy Family, especially my three bosses Carlos Bethancourt, Daniel Arias Barakat, and Raúl Arias de Para, for all the work they put in to make sure that I made it up to Tacarcuna and back safely and successfully.
Birds Seen, April 13–17:
Crested Guan (Penelope purpurascens aequatorialis)
Great Curassow (Crax rubra rubra)
Tawny-faced Quail (Rhynchortyx cinctus cinctus) At least two flushed along the trail.
Tacarcuna Wood-Quail (Odontophorus dialeucos)
Olive-backed Quail-Dove (Leptotrygon veraguensis) One immature bird.
Green Hermit (Phaethornis guy coruscus)
Tooth-billed Hummingbird (Androdon aequatorialis)
Purple-crowned Fairy (Heliothryx barroti)
Greenish Puffleg (Haplophaedia aureliae floccus) At least one seen along the ridgetop.
Violet-capped Hummingbird (Goldmania violiceps) Fairly common starting around 1100m asl all the way up to the ridgetop; easily detected by their buzzing vocalizations.
Ringed Kingfisher (Megaceryle torquata torquata) At Quebrada Ñeque.
Northern Emerald-Toucanet (Aulacorhynchus prasinus cognatus)
Crimson-bellied Woodpecker (Campephilus haematogaster splendens) Three birds along the trail, April 13.
Red-throated Caracara (Ibycter americanus)
Red-and-green Macaw (Ara chloropterus)
Plain Antvireo (Dysithamnus mentalis suffusus)
Tacarcuna Tapaculo (Scytalopus panamensis)
Middle American Leaftosser (Sclerurus mexicanus pullus)
Cocoa Woodcreeper (Xiphorhynchus susurrans nana)
Brown-billed Scythebill (Campylorhamphus pusillus olivaceus) One in a mixed flock at the ridgetop.
Slaty-winged Foliage-gleaner (Philydor fuscipenne erythronotum)
Lineated Foliage-gleaner (Syndactyla subalaris tacarcunae)
Beautiful Treerunner (Margarornis bellulus) One in a mixed flock at the ridgetop.
Northern Schiffornis (Schiffornis veraepacis acrolophites)
Olive-striped Flycatcher (Mionectes olivaceus hederaceus)
Rufous-browed Tyrannulet (Phylloscartes superciliaris palloris) One in a mixed flock at the ridgetop.
Black-capped Pygmy-Tyrant (Myiornis atricapillus) A pair at Quebrada Ñeque.
Scale-crested Pygmy-Tyrant (Lophotriccus pileatus luteiventris)
Tufted Flycatcher (Mitrephanes phaeocercus aurantiiventris) One at Laguna.
Choco Sirystes (Sirystes albogriseus) One in a mixed flock at the ridgetop, well above its reported elevational range.
Brown-capped Vireo (Vireo leucophrys dissors) One in a mixed flock at the ridgetop.
Stripe-throated Wren (Cantorchilus leucopogon)
Gray-breasted Wood-Wren (Henicorhina leucophrys collina)
Song Wren (Cyphorhinus phaeocephalus lawrencii)
Swainson's Thrush (Catharus ustulatus)
Pale-vented Thrush (Turdus obsoletus obsoletus)
Tawny-capped Euphonia (Euphonia anneae rufivertex)
Tacarcuna Chlorospingus (Chlorospingus tacarcunae)
Black-headed Brushfinch (Arremon atricapillus tacarcunae) One skulking in the undergrowth close to the largest river we had to wade across on April 15.
Chestnut-capped Brushfinch (Arremon brunneinucha frontalis)
Blackburnian Warbler (Setophaga fusca)
Tacarcuna Warbler (Basileuterus tacarcunae)
Buff-rumped Warbler (Myiothlypis fulvicauda semicervina)
Canada Warbler (Cardellina canadensis) At least three in a mixed flock at the ridgetop.
Slate-throated Redstart (Myioborus miniatus ballux)
Carmiol's Tanager (Chlorothraupis carmioli lutescens) The standard flock leader at lower elevations.
Blue-black Grosbeak (Cyanoloxia cyanoides cyanoides)
Speckled Tanager (Ixothraupis guttata eusticta) One in a mixed flock at the ridgetop.
Green-naped Tanager (Tangara fucosa) Seen a few times each at Laguna and at the ridgetop.
Bay-headed Tanager (Tangara gyrola deleticia)
Silver-throated Tanager (Tangara icterocephala icterocephala)
Slate-colored Grosbeak (Saltator grossus saturatus) One in a mixed flock at the ridgetop.