Canopy Lodge, Canopy Tower
Location
Flora, General Nature, Multiple Locations, Photography
Interest
In this 7-night all-inclusive botanical tour, we take field trips to the biodiverse Pipeline Road and to the foothills of Cerro Jefe (home to many endemics and where your guides have discovered/published 8 new plant species), Cerro Gaital Natural Monument, the heights of Altos del Maria & other locations of botanical interest, where we will admire (and learn!) a good sampling of this country's spectacular and unique flora, some 10,000 species strong! We will not only enjoy excellent opportunities to photograph stunningly beautiful—and some extremely rare or endemic—orchids, gesners, ericads, melastomes, heliconias, gingers, begonias, bromeliads and many more fascinating plants, but also see a host of Panama's colorful birds, including parrots, trogons, motmots, tanagers & hummingbirds along with the mammals and insects (especially butterflies!) associated with these unique plants—all within a framework of learning some of their complex ecological relationships. Yes, this will be an extraordinary "field botany adventure," replete with on-the-spot mini-lectures on the unique morphological features of many of the plants encountered, all explained in simple terms for the beginner or for the more advanced.
Our accommodations for this botanical tour will be two award-winning Canopy Family properties: our flagship eco-lodge, the Canopy Tower, atop 900-ft Semaphore Hill in Soberania National Park and the Canopy Lodge in El Valle de Anton (at a cooler 2100 ft.), nestled in the belly of an ancient caldera amongst tropical vegetation with a pleasant stream outside your room. Your guides are adjunct Canopy Tower field botanists/biologists Jerry and Linda Harrison, a dynamic couple who have studied tropical nature and especially plants and birds for the past 39 years together. Their passion for tropical nature has extended beyond North America to many Caribbean Islands, Central & South America, Africa, New Guinea and Australia, but they have permanently settled in their favorite country, Panama, where they have lived since 2011.
Available May to October
Special Introductory Price: $1,739.00
Rate is US$ per person (+ taxes), double occupancy. This all-inclusive tour includes lodging and meals at the Canopy Tower and Canopy Lodge, professional biologist guides, WiFi, wine with dinner, airport transfers to and from Panama City and all tours as per the itinerary.  Please check with our reservations office for the times of our scheduled airport transfers to coordinate your arrival and departure times.
Panama's Incredible Flora tour does not include flights to and from Panama City, all taxes, private airport transfers, tips and alcoholic beverages.
Panama's Incredible Flora tour is limited to 10 participants. This tour is available for dates during Panama's green season from May to November. Please contact us for available dates during these months.
---
For those arriving early on day one of the botanical tour, you may be acquainted with the flora, butterflies and birds immediately surrounding the Tower by your guides.
On three evenings during the tour your guides will present powerpoints:
"Orchids of central Panama," a compilation of many of the 180 species Jerry and Linda have photographed, including one they discovered and published.
"Plants of the Canopy Tower, a preview." This emphasizes the incredible diversity of the Panama flora.
"Becoming an expert botanist in 20 minutes!" The two main families of plants encountered on our trails.
All of these fun lectures immediately follow dinner and are about 20 minutes each.
We will review species seen each evening from photographs on a checklist of flowering species most likely encountered this time of year.
Participation in Panama's Incredible Flora tour is limited to 10 passengers to ensure quality time with instructors.
---
Meet Your Guides: Linda & Jerry Harrison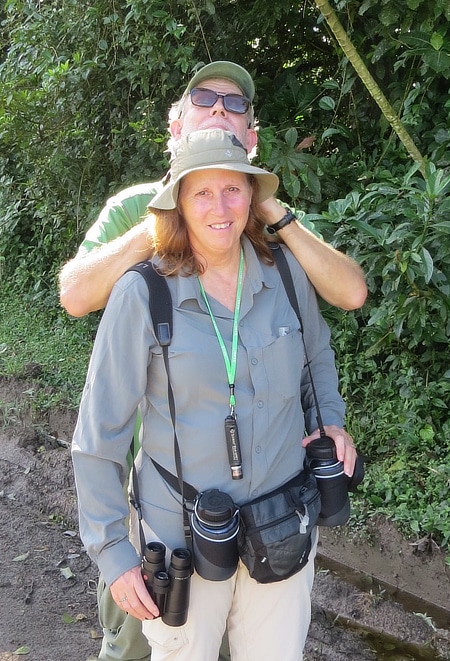 Those who have met Jerry & Linda know of their enthusiasm for sharing their knowledge of natural history. Linda has an ASc. degree in Park Technology and Jerry, a BSc. in Biology. Together, they have studied birds, botany, butterflies and all aspects of natural history for almost 39 years, having traveled to Africa, Australia and throughout the Neotropics in their pursuit of everything wild.
In 2011 Jerry and Linda settled permanently in Cerro Azul, Panamá, in the foothills east of Panama City. They have been photographing and identifying plants and butterflies at a feverish pace, having amassed an image herbarium of more than 1,300 plant species, many new to science or never before photographed (just in the Cerro Azul/Cerro Jefe region), as well as co-authoring a butterfly photo-inventory of more than 1025 species!
List of New Plant Species discovered /co-authored /to be published (ined.)
 Dendrophthora primaria  (co-author) discov.
 D. fortis  (co-author) discov.
 D. perlicarpa  (co-author) discov.
 Epidendrum adsettii  (co-author) discov.
 Eschweilera roseocalyx  (co-author) discov.
 Sloanea harrisoniorum  (discovered)
 Oryctanthus callicarpus  (co-author) discov.
 Syngonium adsettiorum  (co-author)

Lellingeria cantarensis (co-author) discov.
Available May to November
Day 1
Arrival to Canopy Tower
After an introduction regarding the operation of the Tower, you are shown to your room.  But then go immediately to the Tower's observation deck for a spectacular view of Soberania National Park! Panama's Incredible Flora tour officially begins with a welcome-to-Panama dinner at the CANOPY TOWER.
Day 2
Pipeline Road & Semaphore Hill
On the first morning of our botanical tour, we are off to the world famous Pipeline Road, an area of acute interest to botanists and other researchers for its diversity and ease of access. After quick stops by the Ammo Ponds and its brushy borders, we explore the forest edges along level Pipeline Road; here, you will get your first taste of a mature tropical rainforest, and our pace will be slow, with all eyes out for unusual wildflowers, shrubs and trees, as well as butterflies and birds.  Back to CANOPY TOWER for lunch.
After a respite, we take a leisurely walk down Semaphore Hill, passing through good forest, where a myriad of plants, especially palms, create a tapestry of color and layers of green — but always with a watchful eye out for avian and insect visitors which feed on and call these plants home. Dinner at CANOPY TOWER.
Day 3
Full day Cerro Jefe & Cerro Azul
The cloud forests associated with Cerro Jefe have been a mecca for botanists since the 1960s, because it is renowned as an area of high endemism. Of the approximately 10,000 plant species recorded in Panama, 1,300 are endemic.  Roughly 230 of these are found on Cerro Jefe – and more than 70 found ONLY on Cerro Jefe!  And though the flora here is generally well-known, surprises are yet to be discovered. Here, the orchid, gesner, bromeliad & aroid diversity is astounding!  One of the highlights of today's botanical tour will be lunch at the Harrison house, where 12 hummingbird feeders and 3 tray feeders will be swarming with hummingbirds, tanagers, euphonias, woodpeckers, motmots and, possibly, a small troop of Geoffroy's Tamarins, Panama's smallest monkey. During our lunch stop, we will also explore the bromeliad and orchid garden at the Harrison house. Dinner at CANOPY TOWER.
Day 4
Transfer to Canopy Lodge/Valle Chiquito
After a good breakfast at the Canopy Tower we continue our botanical tour two hours farther west in El Valle de Anton in Cocle Province, home to the Canopy Lodge where we will spend the next 4 nights. We arrive in time to get settled in before lunch. You will immediately notice a cooler breeze, as the Lodge sits at 2,100 ft. This afternoon we visit APROVACA, the local "Orchid House" on the edge of El Valle, where hundreds of species of orchids are on display, many in bloom. The research at APROVACA promotes education & propagation of rare species for eventual reintroduction. Immediately afterward, we continue a short distance to an interesting area 20 minutes south of El Valle, called Valle Chiquito. Here, we hope to see species flowering that are difficult to find in other parts of central Panama. Dinner at CANOPY LODGE.
Day 5
Full Day Altos Del Maria
At Altos del Maria (altitude above 1,000M), we pass sweeping vistas where on clear days one can see both coasts. Today's botanical tour highlight is exploring a paved nature trail through primary forest next to a meandering creek. The forest is ablaze with color, with Bromeliads and orchids festooning the trees and bizarre herbs and shrubs along the creek. This area has only recently been accessed, so anything is possible here, from ground cuckoos to new plant species! This nature trail is quite level and our pace, as always, will be slow. We will enjoy a picnic lunch along the banks of a picturesque lake; after more stops for interesting plants, especially orchids, we head back to the Lodge. If time allows and anyone is interested we can make a stop at the El Valle artisan market. Dinner at CANOPY LODGE.
Day 6
Cerro Gaital and environs & Canopy Adventure Trails
This morning our goal is to visit the highly biodiverse Cerro Gaital area, whose flora is rich in orchids, aroids, gesners, begonias & melastomes and other fascinating and stunning plants. Along the way we make stops to scout for terrestrial and epiphytic orchids.  Lunch at CANOPY LODGE. After lunch we will check the Lodge gardens then walk our way to the Canopy Adventure trails, where still more floral surprises await. A highlight is viewing "El Macho," the famous waterfalls associated with the Canopy Adventure zip-line tours. Dinner at CANOPY LODGE.
Day 7
Las Minas/La Mesa
We will make our way to Las Minas after breakfast, where we will walk up the dirt road a short distance and find a different suite of plants than we find at other areas. After lunch at the Canopy Lodge, we will botanize along the roadsides in the La Mesa area. These roadsides are home to several species that will be new for the trip and is also excellent for butterflies and mixed bird flocks! Farewell dinner at CANOPY LODGE.
Day 8
Breakfast and departure to airport
After a lovely breakfast at the Canopy Lodge, we say our good-byes and depart for our return flights home, with great memories of Panama's incredible flora!
Please note that the itinerary is flexible, and may change without prior notice due to weather, alterations in habitat or other conditions.
Canopy Tower
The Canopy Tower is located in impressive rainforest atop Semaphore Hill within Soberanía National Park, 35 miles north of Panamá City in the Republic of Panamá right in the center of the New World— and just 2½ hours from Miami! It's one of best locations for birding lodges in Panama.
Canopy Lodge
El Valle de Antón In Coclé Province, home to both the Canopy Lodge and the Canopy Adventure, is an enchanting mountain valley town much cooler than the tropical lowlands. Surrounded by scenic misty mountains traversed by creeks, its true charm is revealed by its unhurried pace and its peaceful residents. Located just two hours from Panama City, El Valle is the perfect resting place for someone trying to escape traffic jams, office buildings, pollution and the pressures of everyday city life.